Leveraging Tech in Communities and Networks
September 14
@
10:00 am
–
11:00 am
How can technology support communities and networks to thrive? Engage with 5 perspectives on platforms, data, and connectivity.
About this event
One of the number one questions network leaders ask themselves revolves around how technology can support their work. But more often than not the platforms we end up adopting remain dormant, facilitating few connections and reaching only a fraction of our community members.
Through a lively, interactive discussion, we will explore important questions like:
How can technology help expand and deepen relationships within our communities and networks?
How can open and accessible data enable more self-organized connections, decision-making, and impact?
How can we be more inclusive through our technologies, considering the diverse contexts, needs, and languages of our community members?
How can we spark more interconnectivity and collaboration across communities and networks?
Who this event is for
Network leaders, community coordinators, and weavers trying to determine how to better support their networks and communities.
Our fantastic guest speakers
Lead thinkers and specialists in network technology, including:
What you can gain by joining
Key thinking around how to fill gaps in data management, platform engagement, and online decision-making
Thinking around the underlying ingredients needed behind a platform
An array of options for technologies you may consider using or adapting in your own work
Hosted by Nexus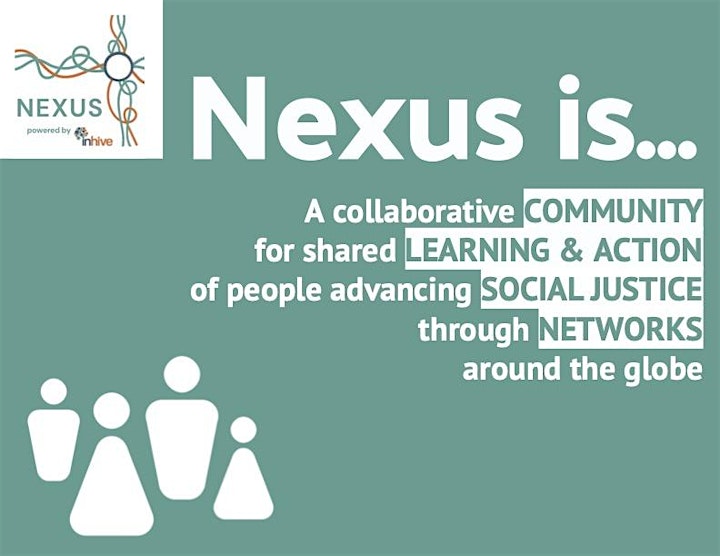 Do you run, support, or engage with a community or network that works to create local and systemic change? Consider joining Nexus, a global network that offers:
Access to cutting-edge knowledge that strengthens individual and collective capacities to solve live issues and deliver transformative impact
New and unlikely connections boosting individual sense of motivation and purpose – while increasing collective innovation and reach, enabling networks to do more together
A global platform amplifying the power of networks to boost visibility, financial support, and access to opportunities