Monthly Community of Practice for Facilitators
November 10, 2021
@
7:00 am
–
9:00 pm
Join us as we learn & try out Liberating Structures facilitation. New hands-on demonstrations each month! Plus regular guest facilitators.
About this event
About Liberating Structures
We're the Liberating Structures community of practice in the Washington, DC area, which also includes Virginia and Maryland. However, in an online world, we're open to anyone in the world. Liberating Structures are easy-to-learn facilitation microstructures that enhance coordination and trust in groups and quickly foster lively participation. We meet monthly to learn new techniques, try them out, and experiment with new ideas around group facilitation.
Most events are free to attend. You don't need to have experience in facilitation or using Liberating Structures. And you don't need to be in the Washington, DC area. This practice group is hands on, uses active learning, and is designed to be appropriate for beginners and veterans. Don't worry if you're new or don't know anyone in the group yet — you will 🙂 Friends and colleagues are welcome.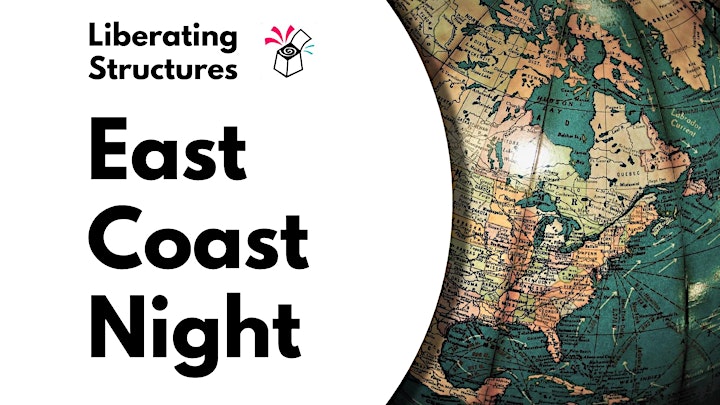 2nd Annual East Coast Night
— November 10, 2021 7:00-9:00 PM ET —
Liberating Structures' 2nd Big East Coast Night
On behalf of the communities of practice in DC • Jersey • Michigan • Philly …
You're invited to our second annual Liberating Structures' East Coast Night. In an effort to energize and expand the use of Liberating Structures, the communities of practice on the East Coast are coming together to offer a fun, collegial, and educational 2-hour online program for new and seasoned facilitators alike.
Join a vibrant community of like-minded practitioners who believe in enhancing relational coordination and trust while quickly fostering lively participation in groups of any size, making it possible to truly include and unleash everyone.
Our theme this year is Letting Go & Looking Forward. Among other microstructures, we expect to use Ecocycle, TRIZ, 15% Solutions and What-So What-Now What.
Admission is free but spaces are limited.
[Note that the East Coast Night is 2 hours from 7:00-9:00 PM, not our usual 6:00-7:30 monthly meet-up.]
Monthly Meet-ups
— December 8, 2021 6:00-7:30 PM ET —
Liberating Structures' Virtual Holiday Party
Light and lively, we'll be using Liberating Structures in a more social to connect and reflect. In our usual hands-on session, we'll experiment a bit with LS activities and strings outside of a more typical (and serious) workplace environment and see how they can be used flexibly in more social situations. As always, come ready to meet other LS practitioners and those interested in facilitation and group dynamics. And if you're looking for a place to wear your funny hat or ugly sweater, feel free to do that with us!
Etiquette and Preparation
Join us on a laptop or desktop, not devices with small screens, i.e., phones or tablets. It makes the experience better for you and everyone else.
Arrive before 6:00pm (US Eastern). We'll open the room at 5:55pm. (Check your time zone.)
Most of our online sessions are run on Zoom. Download and use the Zoom (desktop) app.
Plan to use your mic and camera. You'll be part of an interactive event, not a passive presentation. Use your computer's audio.
Have a few pieces of paper and a pen handy.
Having earphones/buds can reduce ambient sound and improve the experience.
Contact
We're a volunteer community of practice in the Washington, DC area. We send out a newsletter once or twice per month with updates on our future meetings. You can find more information via: